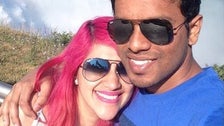 A married couple who fell to their deaths at Yosemite National Park last week chronicled their travels on social media and even acknowledged the risks behind their daring photos, at one point asking "Is our life just worth one photo?"
The couple from India was apparently taking a selfie from the popular Taft Point overlook when they somehow fell over the edge, the brother of one of the victims told NBC News.
The bodies of Vishnu Viswanath, 29, and his wife, Meenakshi Moorthy, 30, identified by the Mariposa County Coroner's office, were recovered about 800 feet below Taft Point on Thursday, park officials said in a release.
Viswanath's brother, Jishnu Viswanath, said the couple left their camera's tripod near the ledge on Tuesday evening. Some visitors spotted it abandoned the next morning and alerted park rangers who then searched the area below, he told NBC.
The couple moved to California's Bay Area from New York City in June, NPR reported.
They prominently documented their experiences throughout the states and several other countries on Instagram ― earning more than 14,000 followers ― as well as in a blog titled "Holidays and HappilyEverAfters."
Moorthy wrote of her desire to be a professional traveler and encouraged the public to follow her and her husband's adventures online. She also acknowledged the risks that she took while chasing her dream.
In one Instagram post at the Grand Canyon in March, Moorthy shared a photo of herself sitting on the edge and posed the question: "Chasing sunsets or chasing likes???"
"A lot of us including yours truly is a fan of daredevilry attempts of standing at the edge of cliffs and skyscrapers, but did you know that wind gusts can be FATAL??? Is our life just worth one photo?" the post read.
The post went on to mention, without detail, previous near-fatal missteps while trying to "get the perfect shot." She credited her husband with protecting her.
"Let us all try to be responsible digital citizens and use our 'numbers' to be transparent and honest, shall we?" she said, in an apparent suggestion that fellow social media users use their popularity, or number of likes, responsibly.
The couple's deaths are the latest to highlight the dangers that selfies have inflicted upon those trying to capture "the perfect shot." Last month, an Israeli teenager also fell to his death in Yosemite National Park while trying to take a selfie.
In 2015, another report found that more people died from selfie-related accidents that year than shark attacks.
The College of Engineering, Chengannur, in India, identified Viswanath and Moorthy as two of its former students in a Facebook post on Saturday that mourned their deaths.
"Our hearts go to the friends and family members of this lovely couple. May their souls rest in peace," the school's post read.




Source HuffPost