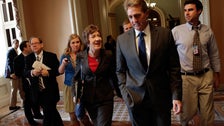 "I don't see what would," he added.
Flake took a tiny stand last week by calling for an FBI investigation into the multiple allegations against Kavanaugh, thus delaying the confirmation vote.
"It does no good to have an investigation that gives us more cover," Flake said Monday. "We actually need to find out what we can find out."
But after the White House imposed limits on the scope of the probe that Democrats criticized as a sham, the investigation likely did just give lawmakers the political cover to push through Kavanaugh's nomination.
He first called out lawmakers for a "broken" process and for "grandstanding" for "soundbites," before hailing the Me Too movement as "very important" and again criticizing Trump's inability "to restrain his impulse to divide us."
Joining Flake and other Republicans who expressed concern about Trump openly mocking one of Kavanaugh's accusers, Christine Blasey Ford, earlier this week, Sasse called the president's disgusting rant "wrong" before recounting the stories of two of his friends who are survivors of sexual assault.
Spoiler alert: By Friday morning, Sasse announced he would vote to confirm Kavanaugh, whom he had defended throughout the confirmation process.
So much for taking a stand.
This is a developing story. Please check back for updates.




Source HuffPost