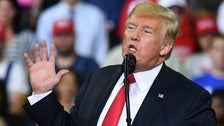 A leaked photograph purportedly showing Trump with the summer 2018 intake, which Vox published Wednesday, has sparked anger — due to the lack of diversity among interns in the program.
The Trump administration has been criticized for the lack of diversity among its interns in the past.

This summer, the White House didn't make much progress on diversity — they just didn't release the photo.https://t.co/14gIk9AyJl

— Vox (@voxdotcom) August 29, 2018
And over its summer 2017 program too:
Many Twitter users have called out the White House over the latest, leaked image, which Vox reports has not been officially released ― even though the program ended more than two weeks ago on Aug. 10.
Here is the official White House photo of the Summer 2018 Intern Class, which the White House refused to release to the press. (You can see Trump standing in the center.) Go ahead, enlarge it. See if you can find a single non-white person in the photo. pic.twitter.com/DwbWw9Oh0o

— Mike Sington (@MikeSington) August 29, 2018
Lack of racial diversity has long been a problem in the Trump White House, and that isn't limited to interns. Earlier this month, @KellyannePolls failed to name even a single high-ranking black aide on Trump's staff since @OMAROSA's departure in December.

588 days in, 874 to go

— TrumpTimer (@TrumpTimer) August 31, 2018
Perhaps the current admin took "The White House" too literal when searching for interns?

— Shawn Recinto (@shawnrecinto) August 31, 2018
Having taken heat in the past for its photos of all-white groups of White House interns, the White House opted this year to … not release a photo. https://t.co/Uh8jvgc3IP

— Matthew Yglesias (@mattyglesias) August 29, 2018
It is, after all, called the White House.

— Daniel M. Gold (@unrealDMGold) August 29, 2018
Others, meanwhile, have compared it to the radically different intern program photos from former President Barack Obama's time in office:




Source HuffPost