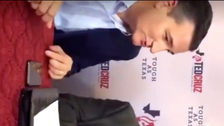 Sen. Ted Cruz's (R-Texas) team sure knows how to botch a Facebook Live broadcast.
The lawmaker's live chat with radio host Mark Davis went viral Friday, but for all the wrong reasons — after an unidentified staffer who was filming the encounter on a smartphone suffered some, well, "technical problems" midway through.
See what happened from the 9 minute 40 mark below:
Cruz, whose seat is being challenged by the social media-savvy Democratic Congressman Beto O'Rourke, admitted his team "may not win IT department of the year" as he repeatedly urged the smartphone-operator not to remove their hand from over the camera's lens.
Footage of the broadcast inevitably trended on Twitter, drawing the attention of people including former porn star Stormy Daniels' lawyer Michael Avenatti:
Ted Cruz just tried to do a Facebook Live but his staff seems to have no idea how an iPhone camera works — here's two minutes of bizarreness pic.twitter.com/vyol4pQqXx

— Alex Thomas (@AlexThomasDC) October 19, 2018




Source HuffPost