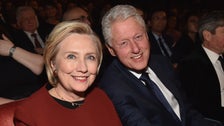 Suspicious packages containing "potential explosive devices" were sent to Hillary and Bill Clinton's home in the New York City suburbs late Tuesday and former President Barack Obama's office in Washington, D.C., early Wednesday, according to the Secret Service.
"The packages were immediately identified during routine mail screening procedures as potential explosive devices and were appropriately handled as such. The protectees did not receive the packages nor were they at risk of receiving them," the agency said in a statement.
The New Castle Police Department in Chappaqua, where the Clintons live, did not immediately respond to HuffPost's request for comment. Spokespersons for the Clintons and Obamas referred HuffPost to the Secret Service for comment.
The New York FBI said it was aware of the package targeted at the Clintons and is investigating, but declined to comment further.
The White House did not immediately respond to a request for comment. 
Just two days ago, police investigated a package containing an explosive device at the home of prominent Democratic donor George Soros, a frequent target of right-wing, anti-Semitic conspiracy theories. His home is also in Westchester County, in a town near where the Clintons live. It is unclear whether the incidents are related.
Hayley Miller contributed reporting.
This is a developing story. Please check back for updates.




Source HuffPost