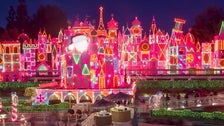 Disneyland is gearing up for the holidays, and one of the park's signature attractions has been given its annual makeover to celebrate the season.
A new time-lapse video released by the company last week shows how it's a small world is drained and then transformed from the beloved classic into a ride through the holiday season around the world:
The company said it takes 18 days to makeover the interior of the ride, which gets additions such as a 14-foot snowman and a gingerbread archway as well as piped-in scents of pine and peppermint.
The ride's famous facade gets 50,000 lights, plus another 350,000 mini-lights in the surrounding greenery, as part of a 35-day exterior makeover. The facade also serves as the backdrop of a holiday-themed light show using 3D projection-mapping technology.


Source HuffPost