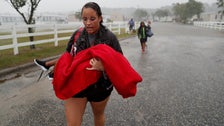 Florence was drifting westward over South Carolina, reaching about 20 miles southeast of Columbia S.C. at 5 a.m. Sunday, the NHC said.
Up to 40 inches (102 cm) of rain are expected along coastal areas of the Carolinas and up to 10 inches in southwestern Virginia, it said.
In Fayetteville, a North Carolina city of about 210,000 people about 90 miles inland, authorities told thousands of residents near the Cape Fear River and Little River to get out of their homes by Sunday afternoon because of the flood risk.
"If you are refusing to leave during this mandatory evacuation, you need to do things like notify your legal next of kin because the loss of life is very, very possible," Mayor Mitch Colvin said at a news conference.
"The worst is yet to come," he added.
The storm made landfall on Friday near Wilmington, a city of about 120,000 squeezed between North Carolina's Atlantic coastline and the Cape Fear River.
Near the Sutton Power Plant in Wilmington, coal ash leaked from a Duke Energy landfill. The site lost enough material to fill around two-thirds of an Olympic-sized pool, the company said in a statement, adding that it did not believe the incident posed a risk to health or the environment.
Officials had warned before the storm rains could taint waterways with murky coal ash and toxic hog waste.
Florence has already set a North Carolina record for rainfall totals, exceeding that of Hurricane Floyd, which struck in 1999 and caused 56 deaths.
In New Bern, about 90 miles northeast of Wilmington at the confluence of two rivers, Florence overwhelmed the town of 30,000 and left the downtown area under water.
"It was pitch black and I was just scared out of my mind," said Tracy Singleton, who with her family later fled her home near New Bern.
South Carolina authorities said law enforcement officers were guarding against looting in evacuated areas, while Wilmington set a curfew on Saturday evening in response to looting in one area.
As the United States dealt with Florence, a super typhoon made landfall in China's Guangdong on Sunday after barrelling past Hong Kong and Macau and killing at least 29 people in the Philippines.
(Additional reporting by Rich McKay; Editing by Matthew Mpoke Bigg)




Source HuffPost