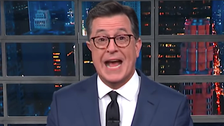 Thanksgiving dinner will likely be a quiet affair around "Late Show" host Stephen Colbert's house this year.
On Wednesday, the comedian listed the five topics that Americans ― who he said recent research showed were now "more divided among party lines than ever" ― probably shouldn't talk about if they want to ensure harmony at the table.
But, honestly, is there anything else left to chat about?




Source HuffPost