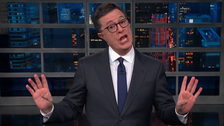 Stephen Colbert said he is "giddy with concern" about the upcoming November midterm elections.
On Friday's broadcast of "The Late Show," Colbert explained it was because it's the "first chance to wash the taste of (President Donald) Trump's victory out of our mouths." He then asked if Trump had been trying to "mansplain the midterms to women" with this tweet:
College educated women want safety, security and healthcare protections – very much along with financial and economic health for themselves and our Country. I supply all of this far better than any Democrat (for decades, actually). That's why they will be voting for me!

— Donald J. Trump (@realDonaldTrump) October 17, 2018
Colbert also had some advice for Republicans in how they could win over more female voters. "If you're gonna pick on a minority, make sure they are not the majority," he quipped.




Source HuffPost