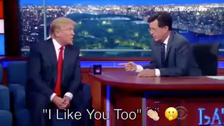 Stephen Colbert on Tuesday called out President Donald Trump for retweeting a false claim that CBS was trying to hide a video of a 2015 episode of "The Late Show with Stephen Colbert" featuring then-candidate Trump.
The original tweet came from a small account called @BlacksForTrump5 and featured a choppy, edited video of Colbert appearing to laud Trump's candidacy on the show's Sept. 22, 2015, episode. "You are not supposed to see this video," the tweet says. "CBS DELETED this entire episode from their official website. You will not find these segments on YouTube either." 
Trump on Monday night retweeted the video with the caption, "So Revealing!" 
Colbert responded a few hours later, wondering why the president would "take time on a National Day of Mourning to retweet something weird like this."
Colbert added that clips from the show have "always been online" and have been viewed 16 million times. 
CBS declined to comment, letting Colbert's tweet speak for itself.
It's unclear how Trump unearthed the initial tweet. The @BlacksForTrump5 account is not verified and had very few followers prior to Trump's quote-tweet.
The video Trump shared has been "circulating among the most credulous #MAGA types on Twitter and Facebook since at least April 2018, after which point the trail dithers off into an underbelly of social media spam," Gizmodo noted. The initial tweet appears to be the first for the @BlacksForTrump5 account.
As the president spreads fake news to his 55 million Twitter followers, he has been ramping up his criticism of what he calls "fake news" ― unflattering reports by mainstream media ― after a supporter allegedly sent pipe bombs to CNN and prominent Trump critics. 




Source HuffPost