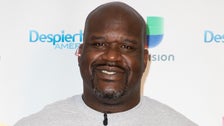 On Monday's broadcast of "The Tonight Show," the NBA legend revealed the answer to this question that he first posed on Twitter in March 2009:
Weee weee wha weee weee wha weee wee weeee what's song is this

— SHAQ (@SHAQ) March 5, 2009
"The world is wondering what it is," said Fallon, urging the former athlete to tell all. "We're dying to know."
It's unclear whether O'Neal has publicly solved the riddle before, but his answer left Fallon more than satisfied. 
Find out in the clip above.




Source HuffPost