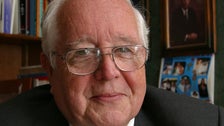 A Texas judge has dismissed sexual assault charges against a revered Southern Baptist leader, citing the statute of limitations on the alleged abuse.
Gareld Duane Rollins Jr., a Houston man now in his early 50s, had claimed Pressler started sexually assaulting him in 1979 when he was 14 years old. The alleged assaults took place over the same time period that Pressler became a towering figure in the Southern Baptist Convention, spearheading a revival that pushed America's largest Protestant denomination toward greater conservatism and stricter interpretations of the Bible.
Last October, Rollins filed a civil lawsuit against Pressler and several other individuals and organizations he claimed should have stopped the alleged abuse. The lawsuit included claims against the Southern Baptist Convention and Paige Patterson, another architect of the SBC's conservative resurgence who has faced separate accusations of misconduct.
Sandill dismissed five of the eight claims Rollins brought against Pressler, Baptist News Global reported, including sexual abuse, conspiracy, fraud and negligence. The claims against the SBC and Patterson were also dismissed, according to the Baptist Press, the denomination's official news site.
The remaining claims include libel, slander and breach of contract, according to RNS, and were allowed to stand because they apply to more recent events. The libel and slander claims are about statements made by Pressler's former law partner. The breach of contract claim accuses Pressler of stopping monthly payments agreed to in a 2004 settlement. 
Since Rollins filed his lawsuit last year, two other men have come forward with sexual abuse or misconduct allegations against Pressler. 
Sandill's decision is subject to appeal, the Baptist News Global said.  
The ruling comes as the Southern Baptist Convention reckons with the Me Too movement, which has toppled several prominent evangelical leaders. Earlier this year, Patterson was fired from his job as president of a Southern Baptist seminary following weeks of criticism from evangelical women over disturbing statements he'd made about abuse. 




Source HuffPost