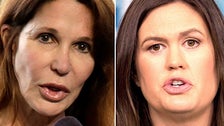 Davis told CNN host Jake Tapper on Monday's broadcast of "The Lead" that she didn't "know what to say" about the White House press secretary. "I don't know what movie she's watching, because the rest of us are watching a different movie," Davis said.
Davis, in an opinion piece for The Washington Post published Sunday, called out Trump for his "glib and inappropriate" response to Saturday's mass shooting at a Pittsburgh synagogue by an anti-Semitic gunman.
"This president will never offer comfort, compassion or empathy to a grieving nation. It's not in him," Davis wrote. "So I have a wild suggestion: Let's stop asking him. His words are only salt in our wounds."
Davis doubled down on that suggestion during her interview with Tapper.
"Donald Trump has never shown compassion, ever. He didn't just burst on the scene. He has been in the public eye for over 40 years," Davis said. "Can you name any instance where he has shown kindness and compassion? He never had a reputation for that."




Source HuffPost