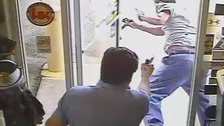 A Florida police department decided to make video footage public showing a city official fatally shooting a man who the official believed was shoplifting.
Michael Dunn, a city commissioner in Lakeland, Florida, said he saw Cristobal Lopez stealing a hatchet from his army-navy surplus store on Oct. 3 as Lopez's father proceeded to pay for an item, police said in a statement.
The video, released Monday, shows a man assumed to be Lopez trying to exit the store. Dunn holds Lopez back by the shirt, points a gun and shoots him. Police confirmed that Lopez had gunshot wounds when officers arrived at the scene, and he died at the store. 
"We just felt that keeping it secret any longer did not benefit the investigation," Jacob Orr, an assistant state's attorney, told The New York Times about the decision to release the video.
The investigation is ongoing, police said.
Dunn acted "responsibly and legally," his lawyer Rusty Franklin told WFLA.
"I mean there was a person who is shoplifting, who has a weapon," he said. "He has a business, and he has to protect his business. It's a place where weapons, firearms, are lawfully sold."
The state's "stand your ground" law gives people the right to lethal force in the name of self-defense.




Source HuffPost