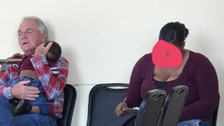 Here's some uplifting news! The internet applauded an Alabama man who went viral this week for holding a stranger's sleeping baby while the mother filled out paperwork in a doctor's waiting room.
"My heart Melted!!!" Natasha Wilson, who captured the sweet moment, wrote on Facebook on Tuesday. "Racism is still VERY real in our society today BUT THIS MAN GAVE ME HOPE & a sweet memory I'll never forget!!"
According to Wilson's account, the man asked the mother from across the room if she would like him to hold her baby while she filled out her forms. The woman smiled and said that would be great. Once he was holding the baby, the man "rocked and loved on the baby like he was his," according to Wilson's post.
"[It's] nice to read a nice story like this after all the hate being spread right now," another Facebook commenter wrote.
More from Yahoo Lifestyle:


Source HuffPost