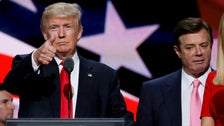 One of Paul Manafort's lawyers regularly briefed President Donald Trump's legal team about his client's conversations with federal investigators as part of special counsel Robert Mueller's investigation into Russian meddling in the 2016 election, The New York Times reported on Tuesday.
The alleged conversations happened after Manafort, a former Trump campaign chairman, reached a plea deal with Mueller's team and began cooperating with his investigation. The Times notes that the backchannel, which it called "highly unusual," may have been an effort to score a presidential pardon.
Manafort faces charges that could land him in prison for at least 10 years.
The alleged lies were not specified in the complaint but would nullify any promises made to Manafort by federal prosecutors during the plea deal established two months ago.
"A breach relieves the government of any obligations it has under the agreement, including its agreement to a reduction in the Sentencing Guidelines for acceptance of responsibility, but leaves intact all the obligations of the defendant as well as his guilty pleas," the filing reads.
Manafort's attorneys have denied any wrongdoing on behalf of their client.
This is a developing story. Please check back for updates.




Source HuffPost