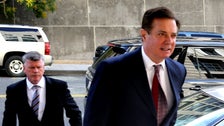 President Donald Trump's former campaign manager Paul Manafort secretly met with WikiLeaks founder Julian Assange on multiple occasions, with the last meeting occurring a few months before WikiLeaks released hacked Democratic National Committee emails in the summer of 2016, The Guardian reported Tuesday.
Manafort met with Assange in 2013, 2015 and "around March 2016," sources told The Guardian. Trump hired him at the end of March.
The details of the meetings were unknown, and Manafort denied The Guardian's report.
On Monday, special counsel Robert Mueller, investigating Manafort as part of the larger probe into possible collusion between Trump's campaign and Russia, said Manafort lied to investigators, violating his recent plea deal.
This is a developing story. Please check back for updates.




Source HuffPost