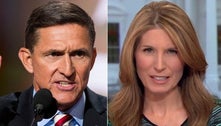 "Damn right!" Flynn exclaimed as the crowd chanted in footage replayed by Wallace on Tuesday.
"Ouch!" Wallace said after the clip. "It's the kind of irony that hits you like a ton of bricks." 
See her full discussion of Flynn's predicament with her panel of guests in the clip above. 




Source HuffPost