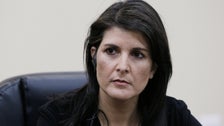 Nikki Haley, U.S. ambassador to the United Nations, has offered her resignation to President Donald Trump, according to multiple media reports.
Haley and Trump will meet in the Oval Office at 10:30 a.m. Tuesday, White House press secretary Sarah Huckabee Sanders tweeted. The event will be open to the White House press pool.
Haley was confirmed as U.N. ambassador in January 2017. Previously, she was the governor of South Carolina.
This is a developing story. Check back for updates.




Source HuffPost