Kirstjen Nielsen, the Homeland Security secretary, appeared to defend her agency's use of tear gas on members of a migrant caravan approaching America's southern border on Sunday, saying she would not "tolerate" any kind of "lawlessness" from those hoping to apply for political asylum.
U.S. Customs and Border Protection closed off the border crossing that leads into San Diego on Sunday as a march of migrants, many traveling from Central America, approached the area. Hundreds of members of the caravan attempted to circumvent a blockade by Mexican police and run toward the border, but they were met with CBP agents who then fired tear gas across the border.
Nielsen on Sunday moved to defend her agents and cast blame on those seeking to cross the border without permission.
"They attempted to breach legacy fence infrastructure along the border & sought to harm CBP personnel by throwing projectiles @ them," Nielsen wrote on Twitter late Sunday. "@DHSgov will not tolerate this type of lawlessness & will not hesitate to shut down POEs for security reasons."
HuffPost has reached out to both DHS and the White House for comment.
Mexican authorities said Sunday that many of those who attempted to approach the border on Sunday had done so peacefully, but said some had behaved in a "violent manner," according to The Washington Post.
Around 5,000 migrants are currently in limbo in Tijuana, waiting to apply for asylum or determine how they'll be able to do so under new rules released by the Trump administration. The AP notes that officials are only processing less than 100 asylum applications per day, just the first step of many before any could potentially come to America.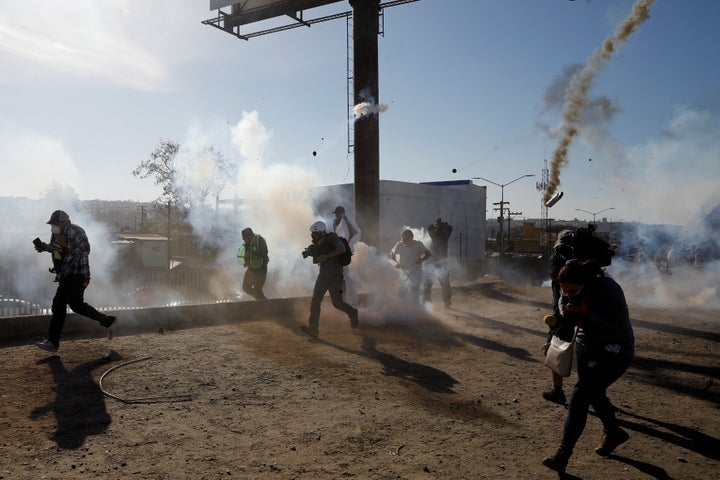 The Mexican government is currently in talks with the White House to sort out details of a new plan that would mandate asylum seekers wait in Mexico while their applications are pending, a dramatic shift in U.S. policy. Traditionally, anyone applying for political asylum has been allowed to remain in the U.S. while their claims move through the court system, but Trump reportedly despises that policy. The president regularly refers to it in a derogatory tone, calling it "catch and release."
Earlier in the day, Trump tweeted that it would be "very SMART if Mexico would stop the Caravans long before they get to our Southern Border" and blamed the Democrats for creating "this problem."
"No crossings!" he wrote.
Nielsen's tenure has been rocky for months and there's been rampant speculation that she would be among those to lose their jobs following this month's midterm elections. The Washington Post reported that Trump planned to fire her in the coming weeks, frustrated with her lack of action to enforce his hardline immigration policy, even after she became the public face of the administration's "zero tolerance" immigration policy that saw thousands of children separated from their parents and placed in migrant detention centers.
At the time of the Post's report, DHS press secretary Tyler Houlton said Nielsen was still "honored to lead the men and women" of the agency and that she was still "committed to implementing the president's security-focused agenda."




Source HuffPost