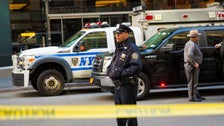 New York police said they were investigating a "suspicious package" found early Thursday in the Manhattan neighborhood of Tribeca.
The New York Police Department urged people to avoid the area in a tweet, saying several streets in the Tribeca neighborhood were closed.
The package was addressed to frequent Trump critic Robert De Niro, CNN reported, and was found outside his restaurant, the Tribeca Grill. 
De Niro has taken profanity-laden jabs at President Donald Trump, and the president has lashed back, calling the actor a "low-IQ individual" and "punch-drunk."
"I just want to say one thing," De Niro said in June. "Fuck Trump. It's no longer down with Trump. It's fuck Trump."
This is a developing story. Please check back for updates.




Source HuffPost