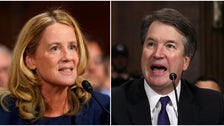 The National Sexual Assault Hotline received more than 3,000 calls on Friday, marking the busiest day in the hotline's history, a day after Christine Blasey Ford and Supreme Court nominee Brett Kavanaugh testified on Capitol Hill about her claims that he sexually assaulted her when they were in high school.
RAINN, which administers the hotline, reported a 738 percent increase from its normal amount of calls, according to CBS News.
Blasey is one of the three women who has accused the Supreme Court nominee of sexual misconduct. Her emotional testimony compelled many people to speak out about their own sexual assault experiences.
A spokeswoman for RAINN did not immediately return a request for comment.




Source HuffPost