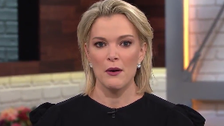 NBC host Megyn Kelly issued an on-air apology Wednesday after she defended white people who wear blackface while discussing Halloween costumes on her show a day earlier.
"I want to begin with two words: I'm sorry," Kelly said at the start of "Megyn Kelly Today" on Wednesday. "You may have heard yesterday that we had a discussion here. … I defended the idea that as long as it was respectable and part of the Halloween costume, it seemed OK. Well, I was wrong and I am sorry."
The former Fox News host drew heated backlash after questioning what was racist about white people darkening their skin while dressing up for Halloween or the reverse.
"When I was a kid, that was OK, so long as you were dressing up as a character," Kelly, who was born in 1970, told an all-white panel during her show Tuesday.
This is a developing story. Check back from updates.




Source HuffPost