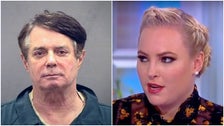 "I'm not a lawyer, I don't know anything about this, but what we do know is one of the things that got him in jail was he was an unregistered foreign agent and he was a conduit between Russian oligarchs within Putin's inner circle," McCain said.
She said this connection meant Manafort should be given the harshest possible punishments.
"As far as I'm concerned, people who do blood money dealings, he should rot in jail and rot in hell, as far as I'm concerned with Paul Manafort," she said.
McCain also said she was worried about the potential consequences if Trump were to pardon Manafort.
"It would enter us into a new level of insanity in this country, which I don't think I could stand," she said. "I'm not an expert on pardons, but I struggle with the idea that any president has so much power they could free someone with getting away with criminal activity."
McCain said Manafort should never have been involved in a presidential campaign ― something with which her father, Sen. John McCain (R-Ariz.), apparently agreed.
In 2008, when John McCain was the Republican nominee for president, he rejected a bid from Manafort to manage the Republican National Convention because he was concerned about Manafort's association with Russian oligarchs, according to The Hill.
The complete segment appears below:




Source HuffPost