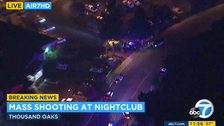 Multiple people were reportedly injured after at least one gunman opened fire at a bar in Thousand Oaks, California late Wednesday.
Officers at the scene told the paper that about 30 shots had been fired. At least four ambulances were called to the area to treat victims. 
This is a developing story. Check back for updates.




Source HuffPost