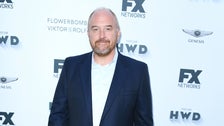 Louis C.K. made another appearance at New York's Comedy Cellar on Monday night ― this one advertised in advance and attracting protesters.
The comedian, easing into a comeback attempt after acknowledging sexual misconduct last year, has been reappearing at comedy clubs, most often the Cellar, since August, alighting public conversation about redemption in the age of Me Too. But until now, his performances had been unannounced.
The advance billing attracted Jennifer Boudinot, 37, and Lana McCrea, 27, who showed up outside the famed comedy club with cardboard signs, according to The New York Times.
"Does this sign make you uncomfortable?" read McCrea's sign. Boudinot's read: "When you support Louis C.K. you tell women your laughter is more important than their sexual assaults and loss of their careers." 
Allowing C.K. to return to scheduled performances, Boudinot told the Times, made her "furious."
"Every female comedian he has harmed deserves a place on the Comedy Cellar stage one hundred times before he should be allowed back on the stage," she said.
C.K. began his set with this, according to the Times:
"So what kind of year have you guys had? They tell you that when you get in trouble you find out who your real friends are. It's black people, it turns out. They'll stick by you."
Hell is "not that bad" because he's "been there," he said. He said he needed "to make jokes because I need an income," telling the crowd he lost $35 million "in an hour" as a result of the original report of his sexual misconduct. That joke seems to have been heard before, as Laugh Spin reported the comedian saying it earlier this month.
C.K. also appeared at the Cellar on Sunday night ― an unannounced show seen by HuffPost reporter Hayley Miller. Miller said some people were kicked out of the club for trying to record C.K. She added: "About a dozen other people left because they were 'upset,' according to several other audience members I chatted with. Most people stayed until the end."
Miller said three women in the audience told her they thought C.K. was "funny aside from everything else," and "deserves a chance to come back."
C.K. withdrew from public appearances for nine months after acknowledging he masturbated in front of women in the comedy world. His unannounced shows at the Cellar caused such a stir that the club's owner, Noam Dworman, started a "swim at your own risk" policy that allowed refunds for patrons unhappy with a drop-in act. 
"We don't know who may pop in that's not on the lineup," Dworman told HuffPost in September. "If someone does come in that you don't want to see, you are free to leave, no questions asked and check completely on the house." 




Source HuffPost