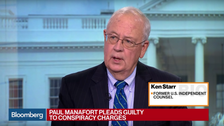 Former U.S. Solicitor General Kenneth Star, who became a regular character in American politics as the independent counsel during President Bill Clinton's impeachment proceedings, said President Donald Trump would be ill-advised to get rid of special counsel Robert Mueller.
Starr made the comments on Friday after Bloomberg's David Westin asked him what the consequences would be if President Trump fired Attorney General Jeff Sessions and if he got rid of Mueller.
"I think that there would be hell to pay if the president fired Mueller or ordered the firing of Bob Mueller," Starr said.
On Friday morning, former Trump campaign chairman Paul Manafort pleaded guilty as part of a deal to fully cooperate with Mueller's investigation into possible Russia's interference in the 2016 presidential election.
Watch the full interview with Starr above ― relevant comments occur at about the 4:30 mark in the video.




Source HuffPost