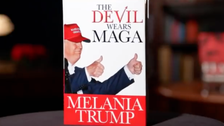 Books that dish the dirt on President Donald Trump's administration are currently a dime a dozen.
So on Tuesday night, Jimmy Kimmel launched a spoof Trump-themed "Tell-All Book Of The Month" club to capitalize on the trend.
"Turn your library into a lie-brary," promises the fake ad's voiceover. 
Check out the books on offer in the clip above.




Source HuffPost