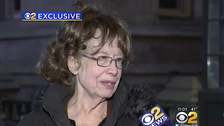 Police continued to search for leads Thursday into the anti-Semitic defacing of a Columbia University professor's office the day before.
"No suspects so far," a spokesperson for the New York City Police Department told HuffPost. The department is investigating the vandalism as a possible hate crime.
Elizabeth Midlarsky, an instructor at Columbia's Teachers College in upper Manhattan, arrived at her office Wednesday afternoon to find two large swastikas and the word "Yid" spray-painted in red on the walls of the entryway, the Columbia Daily Spectator reported.
"I was, to put it mildly, shocked," Midlarsky told CBS New York in the clip above.
Midlarsky, a psychology and education professor who is Jewish, has written about the Holocaust and was victimized by a somewhat similar incident in 2007, according to the Columbia Daily Spectator. But she said intolerance has increased of late.
"Anti-Semitism is really in the wind now," she told the New York Post. "I didn't expect to be a personal target right now. I'm not standing up there waving banners. I'm not out there making announcements publicly."
"We unequivocally condemn any expression of hatred, which has no place in our society," Teachers College President Thomas Bailey said in a statement. We are outraged and horrified by this act of aggression and use of this vile anti-Semitic symbol against a valued member of our community."




Source HuffPost