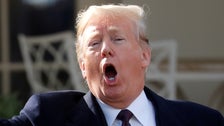 "I can't imagine anybody else other than Trump," Trump boasted to reporters outside the White House on Tuesday. "Can you imagine anybody other than Trump?"
Time did name Trump its "Person of the Year" in 2016, following his election victory over Democratic rival Hillary Clinton. In 2017, Trump claimed he rejected the publication's unofficial offer to receive the title for the second year in a row.
Time Magazine called to say that I was PROBABLY going to be named "Man (Person) of the Year," like last year, but I would have to agree to an interview and a major photo shoot. I said probably is no good and took a pass. Thanks anyway!

— Donald J. Trump (@realDonaldTrump) November 24, 2017
But the magazine later said his brag was "incorrect":
The President is incorrect about how we choose Person of the Year. TIME does not comment on our choice until publication, which is December 6.

— TIME (@TIME) November 25, 2017
Last Monday, the magazine revealed the results of a reader poll about who should receive the 2018 title. South Korean boy band BTS placed first. Pop stars Ariana Grande, Taylor Swift, Beyoncé and Lady Gaga all made the top 10.




Source HuffPost