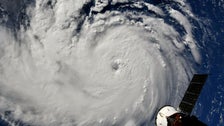 The Environmental Protection Agency is monitoring about nine hazardous waste sites in the Carolinas in the event that Hurricane Florence unleashes toxic chemicals, it told CNN. 
The EPA regularly monitors Superfund sites ― areas where toxic waste has collected, posing health and environmental risks ― that are expected to be targeted by hurricanes in the lead-up to the storms, but toxic waste has been known to seep out of these sites due to floods and rain.
Last year, for example, the agency wasn't able to prevent waste from being released or the protective cap from being damaged at the San Jacinto River Waste Pits Superfund site in Texas following major flooding during Hurricane Harvey, causing the spread of dioxins, environmental pollutants that can cause reproductive and developmental problems and cancer. The EPA announced a $115 million cleanup plan for the waste site in April.
"The coal-ash sites are very vulnerable to this hurricane and any other," Frank Holleman, senior attorney at the Southern Environmental Law Center, told Bloomberg. "The risk is probably not that rain is going to fall into the pits. The risk is that land and water will compromise the dams."
The EPA didn't immediately respond to a HuffPost request for comment but spokesman John Konkus told CNN that it was "closely monitoring the projected path" of Florence and staff members in the regions were conducting response planning.
The storm, which is slated as a Category 4 but might strengthen to a Category 5, is expected to make landfall on Thursday morning. President Donald Trump declared a state of emergency in both North and South Carolina, and the states' governors ordered more than 1 million people to evacuate. 
Even if lives are spared, property and analytics firm CoreLogic warned that the storm will come with severe economic repercussions. The reconstruction costs for homes in the storm's path could hit an estimated $170.2 billion.




Source HuffPost