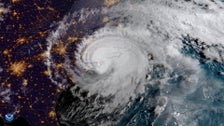 As Hurricane Florence continues to batter coastal states, North Carolina already appears to have broken a record for the most rain from a single storm.
On Saturday, more than 30 inches of rain had fallen on the state, with more rain expected in the coming days. The slow-moving storm has created dangerous flooding in the Carolinas, and at least five people have died, according to The Charlotte Observer. 
"The fact is this storm is deadly and we know we are days away from an ending," North Carolina Gov. Roy Cooper said Saturday.
As The Washington Post points out, preliminary reports submitted to the National Weather Service shows it surpassing a previous record of 24.06 inches set in 1999 by Hurricane Floyd. Swansboro, North Carolina, appears to have gotten the most rain from Florence so far, with 30.58 inches.
The storm is expected to continue throughout the weekend, so it's likely those record-breaking numbers will continue to rise.
This is a developing story.




Source HuffPost