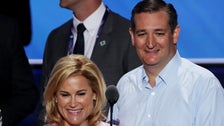 Heidi Cruz was mocked on Twitter for appearing to suggest that she and husband Sen. Ted Cruz (R-Texas) couldn't afford a second home because his lawmaker salary is only $174,000 per year.
Cruz, a Goldman Sachs managing director, said in an interview with The Atlantic that she was working 70-hour weeks as the family's "primary breadwinner." She said she nevertheless was supportive and "mission-driven" on what her spouse is "accomplishing." 
"I really hope he wins his re-election," she said of her husband, who is challenged in the November midterms by Democrat Beto O'Rourke.
But the couple would not be "buying a second home anytime soon," Cruz added in the piece published Thursday.
Poor Heidi Cruz is whining about being the "primary breadwinner" when her husband makes $174K as a US Senator: "We're not buying a second home anytime soon." My heart hurts for them. https://t.co/pGDI4YkKOb

— Joan Walsh (@joanwalsh) October 18, 2018
Heidi Cruz insists that "we won't be buying a second home any time soon" on husband Ted's 174K salary, pinpointing the Republican Party's central, hardhitting issue: the second homeless#HeidiCruz

— Paul Rudnick (@PaulRudnickNY) October 18, 2018
Heidi Cruz complains about not having a second home while more than half a million homeless Americans live and die on the streets and her husband strips health care and Social Security from everyone.

— Eugene Gu, MD (@eugenegu) October 18, 2018
wow poor Heidi Cruz, enduring the unimaginable indignity of only owning one home while her husband is away in Washington working his hardest to make life more difficult for people who can barely afford to pay rent https://t.co/HKQGAhLKQH pic.twitter.com/L7wcjASNNp

— erin "possessed doll" ryan (@morninggloria) October 18, 2018
Our thoughts are prayers are with you. I'm so sorry you can't get your second home. Most people don't even own one but we won't hold your lack of a second house against you. https://t.co/TwaJKA7HxE

— Anne Cooney (@anne_cooney) October 18, 2018
This poor Heidi Cruz! Such a hard life. Ted only make 4 times what the average American does. How can you afford a second home on that? Even the tax scam didn't help enough. No house in the Hamptons this year. So much sacrifice! I'm tearing up reading this. Out of touch much? https://t.co/jASmgXiGMO

— Guadalupe Villarreal (@jaggerz222) October 19, 2018




Source HuffPost