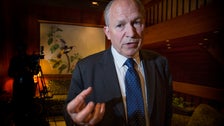 Alaska Gov. Bill Walker (I) suspended his re-election campaign on Friday.
"Every decision I have made as your governor, I have made on the basis of what I believe is best for Alaska. With that said, effective today, I am suspending my campaign for re-election as Governor," Walker wrote in the post.
"With more time, I am confident that [Lieutenant Gov. Valerie Davidson] and I could deliver a message and a campaign that could earn a victory in this election. But there are only 18 days remaining before election day. … In the time remaining, I believe we cannot win a three-way race." 
Walker's departure sets up a tight competition between former state Sen. Mike Dunleavy (R) and former U.S. Sen. Mark Begich (D).  
Walker endorsed Begich in his Instagram post, noting that Dunleavy has been critical of the expansion of Medicaid. 
His announcement comes just three days after the state's lieutenant governor, Byron Mallott (D), abruptly resigned due to unspecified "inappropriate comments."
This is a developing story. Please check back for updates.




Source HuffPost