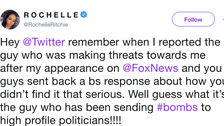 Rochelle Ritchie, a Fox News pundit and former press secretary for congressional Democrats, says the suspect arrested in connection with packages containing likely pipe bombs mailed in the past week threatened her on Twitter this month.
And despite being told about the threats, Twitter did not ban the account.
Cesar Sayoc, 56, of South Florida was arrested on Friday and charged with five federal crimes related to the creation and mailing of the packages, which were sent to individuals critical of President Donald Trump.
A Twitter account believed to be Sayoc's tweeted at Ritchie on Oct. 11, saying: "So you like make threats.We Unconquered Seminole Tribe will answer your threats.We have nice silent Air boat ride for u here on our land Everglades Swamp .We will see you 4 sure.Hug your loved ones real close every time you leave home."
Ritchie tweeted that the threat from the Twitter account came after she made an appearance on Fox News. In that same tweet, she shared Twitter's response to her report of the offending tweet.
Twitter said the account did not violate "Twitter Rules against abusive behavior."
Hey @Twitter remember when I reported the guy who was making threats towards me after my appearance on @FoxNews and you guys sent back a bs response about how you didn't find it that serious. Well guess what it's the guy who has been sending #bombs to high profile politicians!!!! pic.twitter.com/xBY8FMbqnq

— R O C H E L L E (@RochelleRitchie) October 26, 2018
A spokesperson for Twitter told HuffPost that they "don't have a comment on what is a live law enforcement investigation."
The account that threatened Ritchie has since been suspended. Ritchie did not immediately respond to HuffPost's request for comment.




Source HuffPost