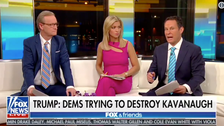 "Fox & Friends" host Brian Kilmeade said President Donald Trump "chose to blow it" when he openly mocked Christine Blasey Ford's Senate testimony and the Me Too movement at a rally Tuesday night in Southaven, Mississippi.
"The tactic of the president laying low has been lauded by all sides," Kilmeade said Wednesday morning of the approach Trump had mostly taken toward Ford's allegation that Supreme Court nominee Brett Kavanaugh sexually abused her decades ago.
But, Kilmeade added, "Last night, he chose to blow it as the FBI is handing in the report as early as today" of its probe into Ford's allegations and similar accusations two other women have lodged against Kavanaugh.
"I wonder about the wisdom, as much as the crowd loved it, I wonder about the wisdom tactically of him doing that," said Kilmeade, who normally is one of Trump's loyalists on Fox News.  
Trump went on his rant amid chants of "We want Kavanaugh!" Referring to the nominee, he said, "So many different charges. Guilty until proven innocent… That's very dangerous for our country. I have it myself all the time. Let it happen to me. Shouldn't happen to him."
He then began belittling Ford's testimony last Thursday before the Senate Judiciary Committee concerning the assault she said occurred at a party when she and Kavanaugh were teenagers.
"I had one beer, right? Trump said, referring to what Ford has said about the incident. "I had one beer! How did you get home? I don't remember. How'd you get there? I don't remember. Where's the place? I don't remember."
Referring to the locale of the alleged assault, he said, "Upstairs, downstairs, I don't know. But I had one beer. That's the only thing I remember."
As Kilmeade questioned the tactical aspect of Trump's remarks, several lawmakers from both sides of the political aisle criticized the substance of what he said.
Sen. Susan Collins (R-Maine) called the president's comments "just plain wrong," while Sen. Angus King (I-Maine) said, "To mock her last night like the president did, he's dividing us into tribes and last night was the most basic tribe of all: men and women."
Sen. Richard Blumenthal (D-Conn.) called the mockery "vile" and a "mark of disrespect and disregard." 
Sen. Jeff Flake (R-Ariz.) who pushed for the FBI investigation of the allegations against Kavanaugh, said, "There's no time and no place for comments like that. And to discuss something this sensitive at a political rally, is just not right. I wish he hadn't have done it. It's kind of appalling."
Collins and Flake are among the handful of swing votes in the Senate that will determine whether Kavanaugh gets confirmed to the high court.




Source HuffPost