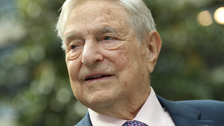 Law enforcement officials responded to an incident at the home of liberal billionaire George Soros on Monday evening, an officer with the Bedford, New York, police department told HuffPost.
Soros has been a frequent target of conspiracy theories and fear-mongering by hyper-nationalist conservatives in the U.S. and Europe, who often rely on anti-Semitic tropes when they characterize him as a shadowy figure who is encouraging mass migration and torpedoing traditional Christian culture. President Donald Trump has personally attacked him as well.
A spokesman for Soros declined to comment on the record about the role that rhetoric might have played in inspiring an attempted attack on the billionaire. The Anti-Defamation League did not immediately to a request for comment. 
This is a developing story. Please check back for updates.




Source HuffPost