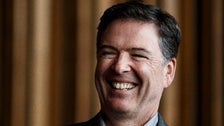 "I consider it to be an illegal investigation," Trump told the conservative outlet in September, referring to the special counsel investigation into whether the president obstructed justice by firing Comey last year, and whether his campaign colluded with Russia to influence the 2016 election.
"It should've never been allowed to have happened," Trump added of the probe, claiming that Comey was Mueller's "best friend." 
No photos of Mueller and Comey embracing or smooching have surfaced — and the president has not produced any evidence of his claim. It appears that even the country's top investigators have been unable to locate any such juicy images.
BuzzFeed reported Tuesday that it had made a records request with the FBI for any pictures showing Mueller and Comey hugging or kissing. But the bureau answered that it, too, had come up empty. 
Per reporter Jason Leopold: 
"My wife is so relieved," he quipped on Twitter.




Source HuffPost