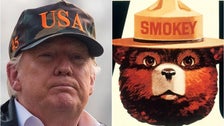 Yet another old tweet by President Donald Trump is coming back to haunt him. 
The 2015 message was a complaint about a PSA starring Smokey Bear:
Who is paying for that tedious Smokey Bear commercial that is on all the time – enough already!

— Donald J. Trump (@realDonaldTrump) January 8, 2015
It's not clear which commercial Trump was referring to.  
Trumps's resurfaced tweet generated a surge of new replies:  
Oh holy mother of God. This is a real tweet.

— Golgatha Blues (@riteofshiva) November 18, 2018
Lol your tweet was from Jan 7 2015 But nonetheless Smokey Bear will out do Trumpy Bear any day. At Least Smokey Bear puts out messages of Safety, you put out messages of hate

— Salem, Oregon (CWV) Weather (@WeatherSalem) November 18, 2018
Who paid for the political commercial you just made of the wildfires in California?

— Abraxsys (@Abraxsys) November 18, 2018
not one of your tweets age well, do they??

— Tina Bradley (@krazybitzz) November 18, 2018




Source HuffPost