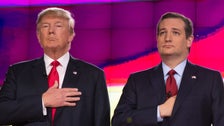 President Donald Trump has been dragged on Twitter over his upcoming rally for Sen. Ted Cruz (R-Texas) yet again, after it was moved to a larger venue.
Trump's 2020 campaign manager Brad Parscale claimed Thursday that ticket demand for Monday's event at the NRG Arena in Houston, which seats about 8,000, had been so "HUGE and unprecedented" that the rally would now take place at the city's Toyota Center (capacity about 18,000).
Response for tickets to #MAGA rally #Houston Mon 10/22 has been HUGE and unprecedented! This will be an epic rally, so we're moving to @ToyotaCenter. Want to make sure everyone coming knows the venue changed!

— Brad Parscale (@parscale) October 18, 2018
Folks online were quick to flag Trump's summer boast that he would find "the biggest stadium" in the state to stump for Cruz:
I will be doing a major rally for Senator Ted Cruz in October. I'm picking the biggest stadium in Texas we can find. As you know, Ted has my complete and total Endorsement. His opponent is a disaster for Texas – weak on Second Amendment, Crime, Borders, Military, and Vets!

— Donald J. Trump (@realDonaldTrump) August 31, 2018
Just as they did when the initial venue was announced, they reminded the president that the Toyota Center is still vastly smaller than Texas A&M University's Kyle Field ― the largest stadium in Texas with 102,000-plus seats.
I thought Trump was going to the biggest stadium in Texas? Just another lie.

— melissa turkel (@TurkelMelissa) October 18, 2018
Trump's rally has been moved to the Toyota Center, which holds roughly 18,000 people. Bigger than NRG Arena, where it was scheduled, which holds 10,000 less. Neither are the "biggest stadium in Texas," as promised. That would be Kyle Field in College Station, which holds 102,995. https://t.co/3z3BNhqTlk

— Kaitlan Collins (@kaitlancollins) October 18, 2018
"Huge" lol There will be high school football games on Friday night with bigger crowds than that. What happened to biggest stadium in Texas? That's not even the biggest in Houston. Weak!

— Thomas C Lester (@spied4you) October 18, 2018
Biggest stadium in Texas? What happened? The MAGA folk were promised YYYUUGGGEEE

— Stephen Hall (@StocksAllUp) October 18, 2018
I thought it was supposed to be at the biggest venue in Texas?

— Megan Sutherland (@mesuther) October 19, 2018
What happened to the "biggest stadium in Texas?" Lol. So sad. High school teams fill bigger arenas.

— ResisterSister (@TXResisterhood) October 18, 2018




Source HuffPost