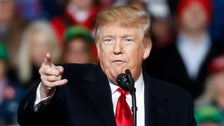 "Nobody knows yet" if Khashoggi was murdered by Saudi authorities, Trump told "60 Minutes" host Lesley Stahl in a preview clip released online Saturday ahead of the interview's full broadcast on CBS Sunday night.
Trump said the incident was "being investigated" and "being looked at very very strongly" and that the U.S. "would be very upset and angry if that (Saudi involvement) was the case."
"As of this moment, they deny it and deny it vehemently," he added. "Could it be them? Yes."
Trump refused to reveal whether he would impose sanctions on Saudi Arabia if its involvement was confirmed, and admitted he was reluctant to cease arms sales between the U.S. and the country because it could hurt American jobs.
"There are other ways of punishing, to use a word that's a pretty harsh word, but it's true," he told Stahl.
"There's a lot at stake, and maybe especially so because this man was a reporter," added Trump, who in the U.S. has repeatedly described CNN as "fake news" and journalists as "enemies of the people."
"You'll be surprised to hear me say that, but there's something really terrible and disgusting about that if that were," he added."We're going to get to the bottom of it and there will be severe punishment."
Check out the preview clip here:




Source HuffPost