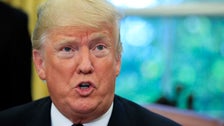 President Donald Trump on Friday cast doubt on a series of mail bombs sent to CNN and some of his high-profile critics.
"Republicans just don't do this sort of thing," Limbaugh said on his radio show, adding that the attacks "might serve a purpose" for Democrats.
"Fake News―Fake Bombs," Dobbs tweeted. "Who could possibly benefit by so much fakery?" 
This is a developing story. Check back for updates.




Source HuffPost