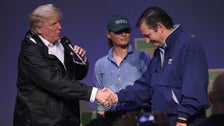 Before heading to Houston, Texas, on Monday for a rally in support of Sen. Ted Cruz's (R-Texas) re-election campaign, President Donald Trump clarified his position on the onetime presidential hopeful.
"He's not 'Lyin' Ted anymore. He's beautiful Ted," Trump told reporters on the White House's South Lawn.
Trump also said that he calls him Cruz and "Texas Ted." He said he doesn't regret claiming that Cruz's father killed former president John F. Kennedy.
"I don't regret anything," said the president.




Source HuffPost