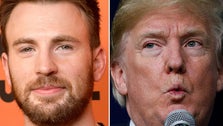 The "Avengers" star taunted Trump on Monday by rewriting the president's earlier tweeted attack on the "Fake News Media."
'Help! I've never done anything wrong in my entire life, but somehow hostility is at an all time high. Just because I kick beehives all day, it's not MY fault when people get stung! No one has EVER been treated so unfairly. Sad. Also, where's Obama's birth certificate?' https://t.co/F3iQr0O5xn

— Chris Evans (@ChrisEvans) October 29, 2018
"Help! I've never done anything wrong in my entire life, but somehow hostility is at an all time high," Evans imagined Trump as writing.
"Just because I kick beehives all day, it's not MY fault when people get stung!" he added. "No one has EVER been treated so unfairly. Sad. Also, where's Obama's birth certificate?"
Evans later responded to White House counsel Kellyanne Conway's claim that Trump was "trying to heal the country" with a metaphor involving his dog.
It's 'counsel', Biff. The word is 'counsel'.

I was trying to comprehend how in the world a man, even as moronic as you, can misspell a word he probably reads fifty times a day. But then it dawned on me, you probably only HEAR the word.

You don't read shit.

And we all know it. https://t.co/7zZGZRZtkF

— Chris Evans (@ChrisEvans) August 20, 2018
He's also used it to bash former Ku Klux Klan leader David Duke.
There's nothing more maddening than debating someone who doesn't know history, doesn't read books, and frames their myopia as virtue. The level of unapologetic conjecture I've encountered lately isn't just frustrating, it's retrogressive, unprecedented and absolutely terrifying. https://t.co/4jCFwB4T5U

— Chris Evans (@ChrisEvans) September 30, 2018




Source HuffPost