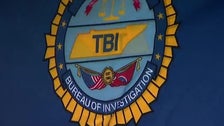 A school bus driver in Tennessee was making his rounds Monday morning when a woman boarded the bus with gunshot wounds, police said. Later, a male shooting victim was located nearby, and the body of a young girl was found inside a residence.
According to the Tennessee Bureau of Investigation, a suspect, whose name has not yet been released, has been taken into custody.
"The individual believed to be responsible for the shootings had been staying on the property in recent days, working for the male resident," the TBI said in a press release. "Following this morning's shooting, the subject had been seen running into a wooded area next to the house."
The man was captured shortly before 11 a.m. He was treated for unknown injuries and booked into the Clay County Jail.
Authorities said the wounded woman and an uninjured child boarded the bus together in front of a Clay County home at about 6:30 a.m. The driver transported them to the Mount Vernon Fire Department and called 911.
Clay County sheriff's deputies were dispatched to the residence where the woman and child boarded the bus. Upon arrival, they located an adult male outside with a gunshot wound. Inside the home, deputies found the body of a juvenile female.
The adult victims were airlifted to Vanderbilt University Medical Center in Nashville, police said. Their condition is unknown.
Investigators have yet to identify the shooting victims.
"This continues to be an active and ongoing investigation," said the TBI. "As more details are available, they will be" released.




Source HuffPost