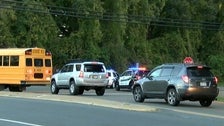 A high school in Matthews, North Carolina, resumed classes on Monday just hours after one student shot and killed another on campus ― a disturbing indication of just how common gun violence has become in the United States.
Butler High School, roughly 12 miles southeast of Charlotte, went into lockdown around 7 a.m. Monday after a student fired a gun at another student during a disagreement in a hallway.
The victim was transported to a hospital, where he later died of his injuries, officials said. The suspect was taken into custody and questioned by police. Authorities have not released the names of the students.
By 9:30 a.m., Charlotte-Mecklenburg Schools announced that the lockdown had been lifted. Parents were allowed to pick up their children, but for the remaining students, classes resumed as normal, the school district tweeted.
This is a developing story. Check back for updates.




Source HuffPost