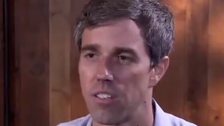 Rep. Beto O'Rourke, the Democratic nominee for Senate in Texas, passed on a chance to respond to President Donald Trump's personal attacks on him, saying he would rather "stay focused on the future." 
Trump, who headlines a rally in Texas on Monday to help Republican Sen. Ted Cruz's re-election bid, tweeted last week that O'Rourke was "a Flake" and "a total lightweight."
But O'Rourke, whose campaign has attracted nationwide interest and support among Democrats, shrugged off the president's jabs in an interview with ABC News that aired Sunday. 
"I don't know that it makes any sense to respond," O'Rourke said. "The kind of bitterness and the name-calling and partisanship that has unfortunately defined so much of the national conversation, you can add more to it or you can stay focused on the future."
During the 2016 presidential race, Trump had repeatedly mocked Cruz, one of his Republican challengers, as "Lyin' Ted." O'Rourke resurrected the disparaging nickname during a debate with Cruz last week.
"He's dishonest," O'Rourke said during the faceoff. "It's why the president called him 'Lyin' Ted,' and it's why the nickname stuck ― because it's true."
But O'Rourke, whose focus on running a positive campaign helped him raise a record-breaking $38 million last quarter, suggested that he regretted his remark during a town hall discussion with CNN on Thursday.
"It's not something that I feel totally comfortable with, and perhaps in the heat of the moment, I took a step too far," he said. "I don't know that that's the way that I want to be talking in this campaign."
Even as O'Rourke has seen his national profile grow, polls in heavily Republican Texas have shown Cruz ahead in their race.




Source HuffPost