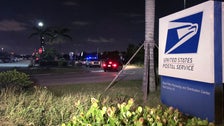 Authorities zeroed in on a U.S. Postal Service facility in south Florida as they continued to piece together the mystery surrounding the suspicious packages sent to prominent Democratic political and entertainment figures across the country.
Miami-Dade police said they joined federal teams in investigating the Opa-Locka mail facility as a "precautionary measure" on Thursday. Several of the packages passed through this facility, according to CNN and The New York Times.
Packages containing potential bombs have been mailed this week to high-profile Democrats including Hillary and Bill Clinton, former President Barack Obama, former Vice President Joe Biden, Rep. Maxine Waters (D-Calif.), and former CIA Director John Brennan via CNN's New York City offices.
Billionaire philanthropist George Soros, a prominent Democratic donor, received one earlier in the week. A New York City address connected to frequent Trump critic Robert De Niro also received a package Thursday morning. 
All 10 packages ― manila envelopes with bubble wrap lining ― listed Rep. Debbie Wasserman Schultz (D-Fla.), the former chairwoman of the Democratic National Committee, as the return sender.
Authorities have yet to share a motive or any clues on a suspect, but they're hard at work to figure out where the packages originated and ensure that any other packages making their way through the postal system are seized, the Times said. Law enforcement officials told the news outlet that some of this work includes forensic examinations and data analysis from cell towers.
So far none of the suspected pipe bombs have detonated, but New York Police Department commissioner James O'Neill said Thursday that they were treating them as "live devices."
"This is something that should be taken seriously," he said.




Source HuffPost