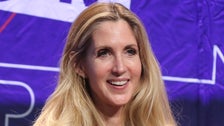 Controversial conservative pundit Ann Coulter has suggested that President Donald Trump should give the order for U.S. troops to invade Mexico.
On Friday's broadcast of Fox News' "The Ingraham Angle," Coulter claimed to host Laura Ingraham that it was an option available to Trump in halting undocumented migrants attempting to enter the U.S. — who she disparagingly dubbed "invaders."
"The military can't really do anything standing on our side of the border. What are they going to do, shoot the invaders?" Coulter asked.
"But they could invade, they could go in ten yards into Mexico. We didn't ask for Iraq's approval to go in, we didn't ask for Afghanistan's approval to go in," she added, in the clip posted online by Media Matters:




Source HuffPost