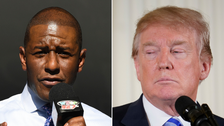 Calling Trump's attack "baseless," Gillum told The Guardian's Sabrina Siddiqui that the president needs to "grow up" and start thinking about the consequences of his actions. 
"And in this day where we're seeing such dangerous rhetoric turn into political violence, I think the president should demonstrate much more maturity and restraint," Gillum said. "I think he's not yet caught grasp of the weight of this moment that we find ourselves politically in the nation." 
Referring to Cesar Sayoc, the 56-year-old Floridian accused of mailing a series of pipe bombs to the president's critics, Gillum urged Trump to "demonstrate better restraint" and exhibit a "greater sense of responsibility." 
"I mean, literally somebody from my state, who tweeted obsessively about me in their social media, sent bombs in the homes of Democratic leaders across the country who attacked the president verbally," he added.
People booed when Gillum mentioned Trump at a teachers union event on Monday afternoon, the Sun Sentinel reported. 
"This man has a responsibility to stand up and to speak out against hatred and division," Gillum said. "And instead, he gets on Twitter and goes to rallies and he stokes fear. His only goal is to make us afraid of each other so that we don't trust one another, so that we don't respect each other's humanity anymore."  
In an interview on Monday night, Trump told Fox News' Laura Ingraham that if Gillum were to be elected, "Florida will become Venezuela." 
Evidence released last week from the probe shows Gillum accepted a ticket to the musical "Hamilton" from a group that included an undercover FBI agent, CNN reports.
While the Democrat tweeted last week that he has accepted "responsibility for that," he added that he's "running for Governor. Florida has 99 problems, and Hamilton ain't one of them." 




Source HuffPost